Steps to configure paypal url in spreadsheet
Step 1
Set up a cell called xl_redirect_success with the url to PayPal
You build the paypal url in a cell in spreadsheet and apply "=" keycode at front of the url to turn it into formula. The url should contain at least 3 variables:  item_name, quantity and amount.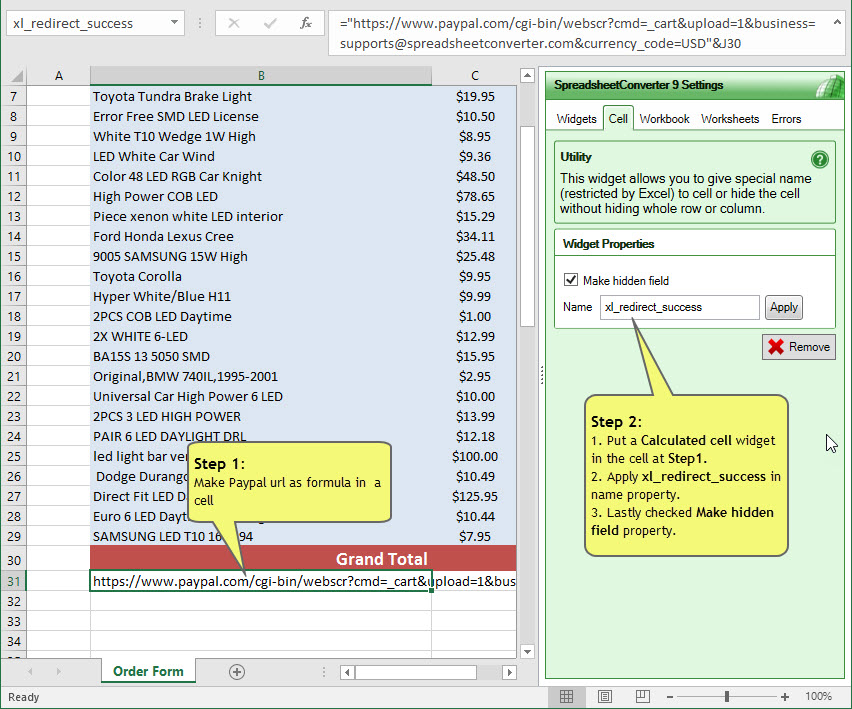 A minimal PayPal url is something like this:
="https://www.paypal.com/cart/add=1
    &business=support@spreadsheetconverter.com
    &item_name=iphone&quantity=2&amount=399.99"

However, there are many more separate fields you can send, for example "shipping". For a complicated PayPal url, see paypal-sample.xls
Note: Paypal service only supports upto 2 place decimal number value in amount variable.
See paypal for more configuration information.
Step 2
Enter the email address
After you subscribe to the Advanced email feature go ito the 'configure submit' dialog and enter your email address in the email field with Advance radio selected.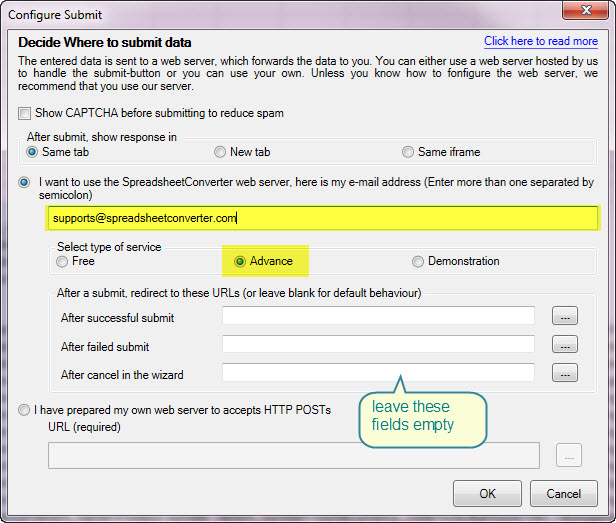 Step 3
Name the Submit button Proceed or similar
Submit is not a good title for a order button so we can change it.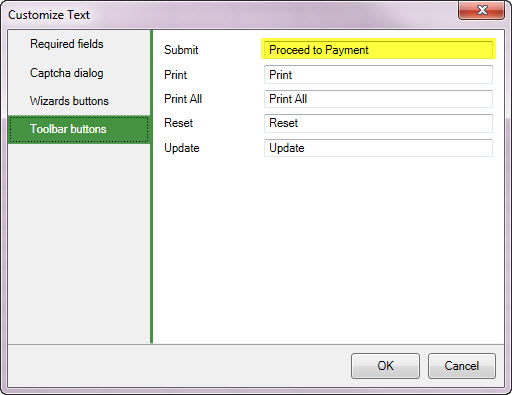 Verifying that everything works
After SpreadsheetConverter generates the page verify that everything works properly.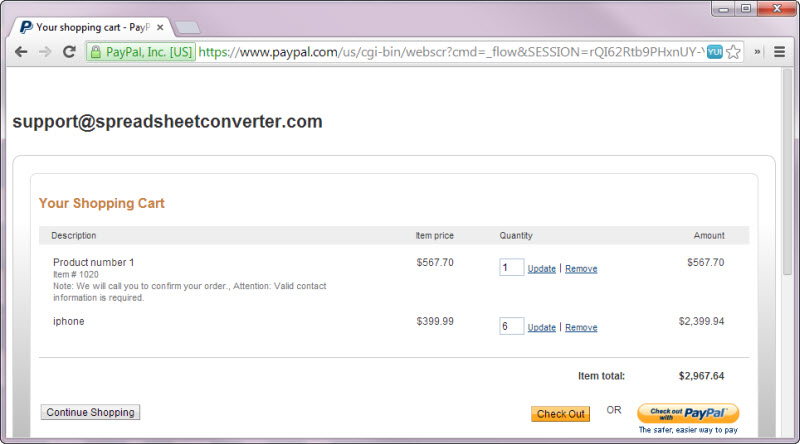 Tip 1: Hide rows and columns with data you do not want the user to see
If there are values you do not want the user to see place them on worksheets you do not show or hide the rows or columns.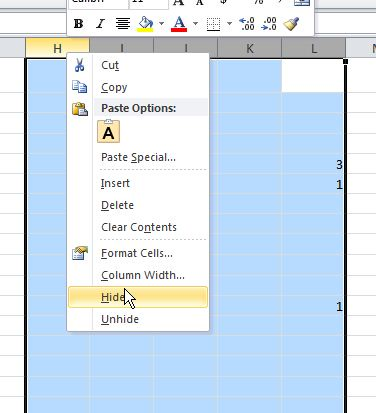 Tip 2: If you use the Advanced Submit Service, use the -quick.htm version
We generate two pages, one ending with .htm and one with the -quick.htm. The difference is that the non-quick contains information on how the email should look. This information only needs to be transferred once to our server. So, you should press submit at least from the non-quick version, and then use the -quick.htm version for your future needs.
Security and tampering
If you redirect like this to PayPal from an HTML-page the values can be manipulated. Therefore, when you get an order you can double-check that the total is correct and that the customer paid the correct amount.
If you want to have a 100% tamper-proof form use SpreadsheetConverter ASP.NET and use an ASP.NET page instead of an HTML page. However, even in this case you need to verify that the total in the order form and the total in the PayPal receipt is the same.
Get more out of PayPal