Build powerful web apps from Excel prototypes
What are web apps?
The term "web application" or web app is commonly used for any advanced web page which uses HTML5 to work like a standalone software application. HTML5 allows applications to load as web pages but store data locally and work while offline.
There are several ways to build apps for smartphones.
Our desktop flavors support responsive design, where the formatting of a cross-platform web app automatically adapts to the width of the screen or window. The web app is fetched and used in a web browser. With responsive design, you can use the same spreadsheet-based design on any screen – wide or narrow.
Any web app loaded into a smartphone web browser can be saved in the device, with an icon on the home screen, using the Add to home screen function on both iOS and Android. Users can start the web app directly without downloading, just like any other app on the phone, assisted by the web browser.
Native IOS and Android apps require programming to run directly on the mobile device, without the help a web browser.
Hybrid apps embed a mobile website inside a native app. This allows the developer to use web technologies while still being able to access device hardware, work offline, list the app in an app store etc.
What does SpreadsheetConverter do?
SpreadsheetConverter generates web pages that can be embedded inside a native app. The embedding or wrapping is done by third-party services like AppsGeyser. To learn more, please read our tutorial about building Android apps with Excel, SpreadsheetConverter and AppsGeyser.
You can package the resulting hybrid app and sell it as a standalone product in an app store.
What's it worth, to you?
There is no simpler way to build an extremely powerful web app than this. Just create the calculator or electronic form you need with Excel and let SpreadsheetConverter iPhone/Android convert it into web pages with full support for iPhone and Android touchscreens. Asking the user for a number? Show the number pad. Make life simpler for the user.
If your requirements change, you just edit the spreadsheet, run the conversion to HTML and publish the new version on the web.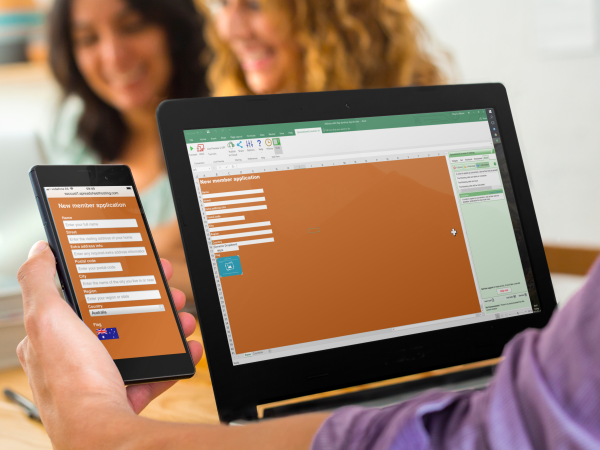 This photo shows a web app with a "new member" registration form. As you can see, the developer is using Excel to design the form and a Sony Xperia smartphone to preview it. Everything works just like in Excel. The formulas and Excel functions you use to calculate values are all live in the web app. You can design the layout as you like with Excel's formatting options. Everything you do in Excel comes across to the web app.