Create a JavaScript calculator from an Excel spreadsheet
Build an interactive web calculator in JavaScript from an Excel spreadsheet. Save hours of programming by using tested and trusted code libraries.
Your customer wants a simple JavaScript calculator for their website. In theory it is easy to program, however handling all possible errors, formatting the data and implementing the calculation can be rather tedious. A better solution is to create the entire calculator with Excel, and convert the Excel formulas to JavaScript using SpreadsheetConverter.
You create the calculator in Excel in no time. The machine conversion to JavaScript will be well tested, since thousands of users test our calculation engine daily. You get a fast, online JavaScript "spreadsheet" with all the features that your customers expected.

See examples of what SpreadsheetConverter can do for you.
Free offer: Send us a spreadsheet and we'll send it back as a web page.
JavaScript calculators boost sales
JavaScript spreadsheets activate your visitors and make them interact with the website. If they save time using a price calculator for a quote, or see how much they can save by refinancing a mortgage, they will return to your calculator over and over again.
A Excel JavaScript calculator is also valuable on websites without products. If you can use your fantasy to develop a useful calculator, visitors will return to your site, and spread the word about it.
Excel and JavaScript are natural matches. Your web forms can have embedded calculations and validations. The entered data is collected and made available to you. Typical examples are:
Expense reports: let the employees fill in expense reports online from anywhere in the world. Sums are updated directly when entered, just as they are in Excel.
Surveys like course evaluation
Order forms: Using SpreadsheetConverter is the fastest way to publish an order form on the web. Totals, sales tax, shipping is no problem.
Reservation forms.
Employment application: Web forms help you get more structured answers.
Example: Simple JavaScript spreadsheet with live chart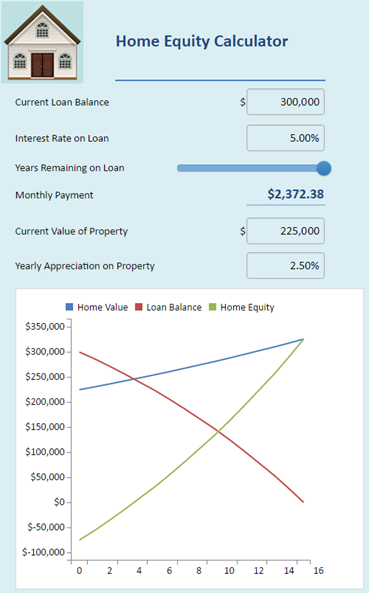 Chart inside a Javascript web calculator
See our entire Examples collection converted to JavaScript spreadsheets.