VAT or sales tax will be added if applicable
Since we do business globally, all prices on our website are exclusive of local VAT or sales tax. In some circumstances, we are legally obligated to collect taxes in the United States, countries that are part of the European Union, India, Japan, New Zealand, Norway, Switzerland, South Africa and South Korea. In these cases, our retailer FastSpring collects the taxes for us.
If you are a U.S. customer buying on behalf of an organization that is exempt from paying state and local sales taxes, you can e-mail a copy of the tax exemption certificate or similar to Fastspring along with your order reference, and your sales tax will be refunded.
Customers that are exempt from paying VAT or GST can prevent tax from being collected on their order by providing their valid VAT ID or GST ID on the FastSpring order form. Example: For VAT, follow the Enter VAT ID link to get to the VAT ID input form. Enter your VAT ID without spaces and press Submit.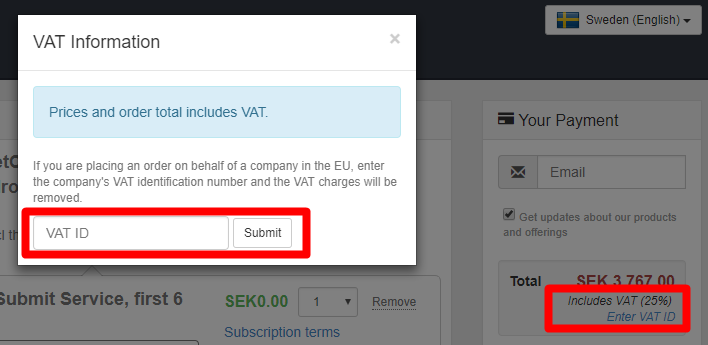 For more information, please consult the sales tax page on the FastSpring website. On this page, you can also find FastSpring's own tax ID in different countries.