Let us convert one of your Excel spreadsheets to a live web form or calculating web page. Just e-mail us one of your spreadsheets and we'll do it for you. It's so simple, we'll even do it for free! Once you see the impressive result, you'll want to download the program and try for yourself. We'd love to help you try SpreadsheetConverter on one of your own spreadsheets. You don't have to install the software to test it. Just send one of your own spreadsheets, and we'll send it back as a live, intelligent web form or calculator. Use the form below and remember to attach the spreadsheet! This service is free, because it's so simple to convert your spreadsheet to web format with SpreadsheetConverter that we can do it in almost no time at all. If you want to keep your web calculator or form up-to-date without installing or learning the converter, you can have us do all the conversion work for you, forever, using the paid conversion service.
Your first conversion is on us
This is how it works: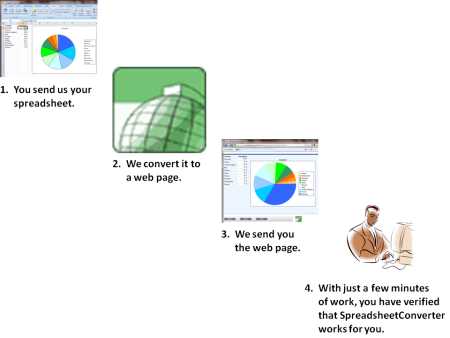 Before sending us the spreadsheet, remember to remove any sensitive information in the spreadsheet. We provide this free conversion service to make it easier for you to evaluate SpreadsheetConverter. You must have a paid license to publish any web pages we build for you. Please do not upload the converted web page to your website. If you have any questions, don't hesitate to contact our Help Desk.