The new SpreadsheetConverter ribbon menu
The new responsive ribbon increases productivity for both new and experienced users.
We added a few powerful shortcuts to let you go directly from the menu to insert a widget or edit Workbook or Worksheets settings.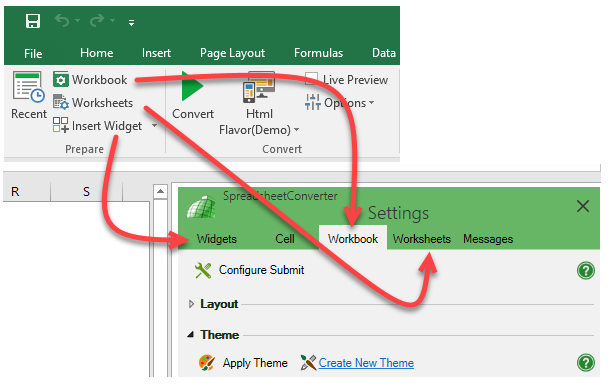 If there is already a widget in the current cell, the Insert Widget button changes into Edit widget to let you access the widget's settings directly from the ribbon.

The settings for worksheet-level widgets like Hide Rows/Sheets and Responsive Blocks are always accessible directly from the ribbon.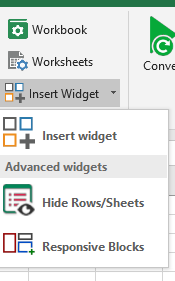 We changed the History list into a Recent file list on the left-hand side of the ribbon, making it much easier to open or share a recently converted web page. The Recent list has a timestamp for the most recent conversion.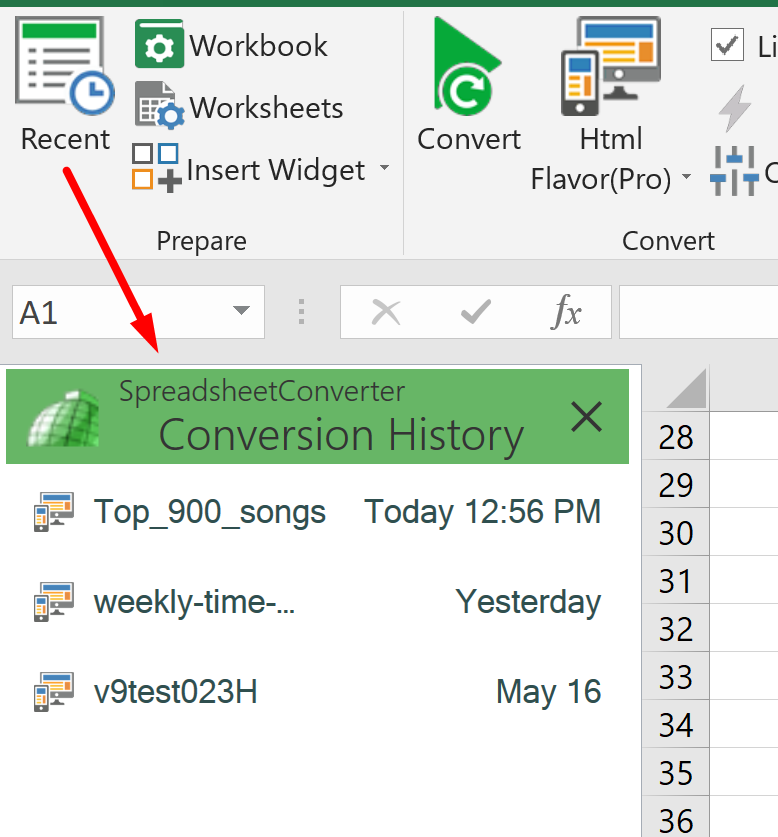 We split the Sharing section into two: Test and Publish. This gives you direct links to upload a web page to the Test and Production locations on our cloud servers. There is a help page about Publish to Cloud. In the Node.js flavor, QuickNode appears in the Test in Cloud menu.

The WordPress plugin button lets you create an SSC calculator file for export to WordPress where you can import it with our WordPress plugin. If you use another content management system, check if there is a shortcut to an integration document for your specific CMS on our website.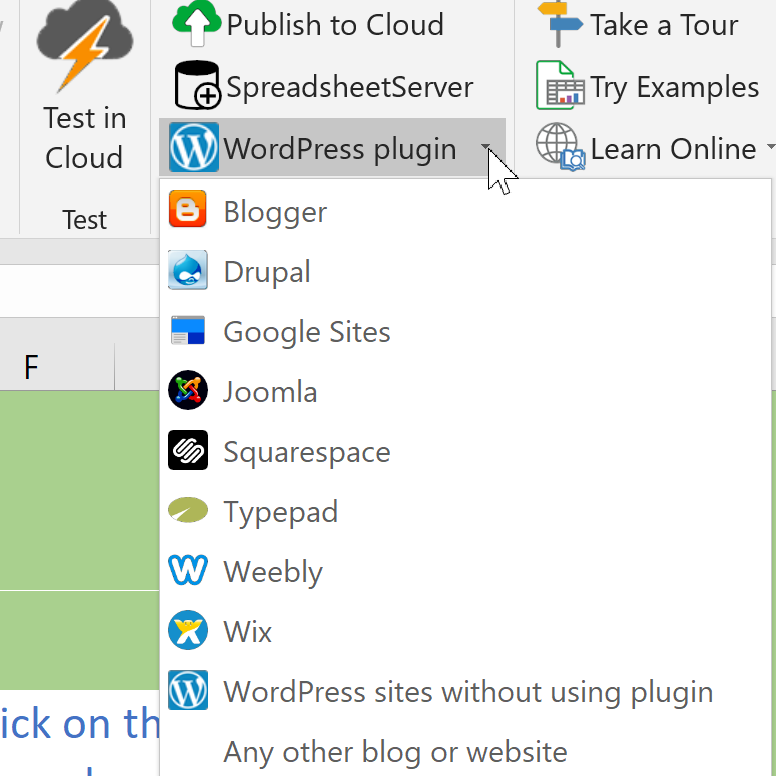 If you have a problem, use Report issue to request help. Adding lots of troubleshooting information is very easy thanks to the convenient checkboxes.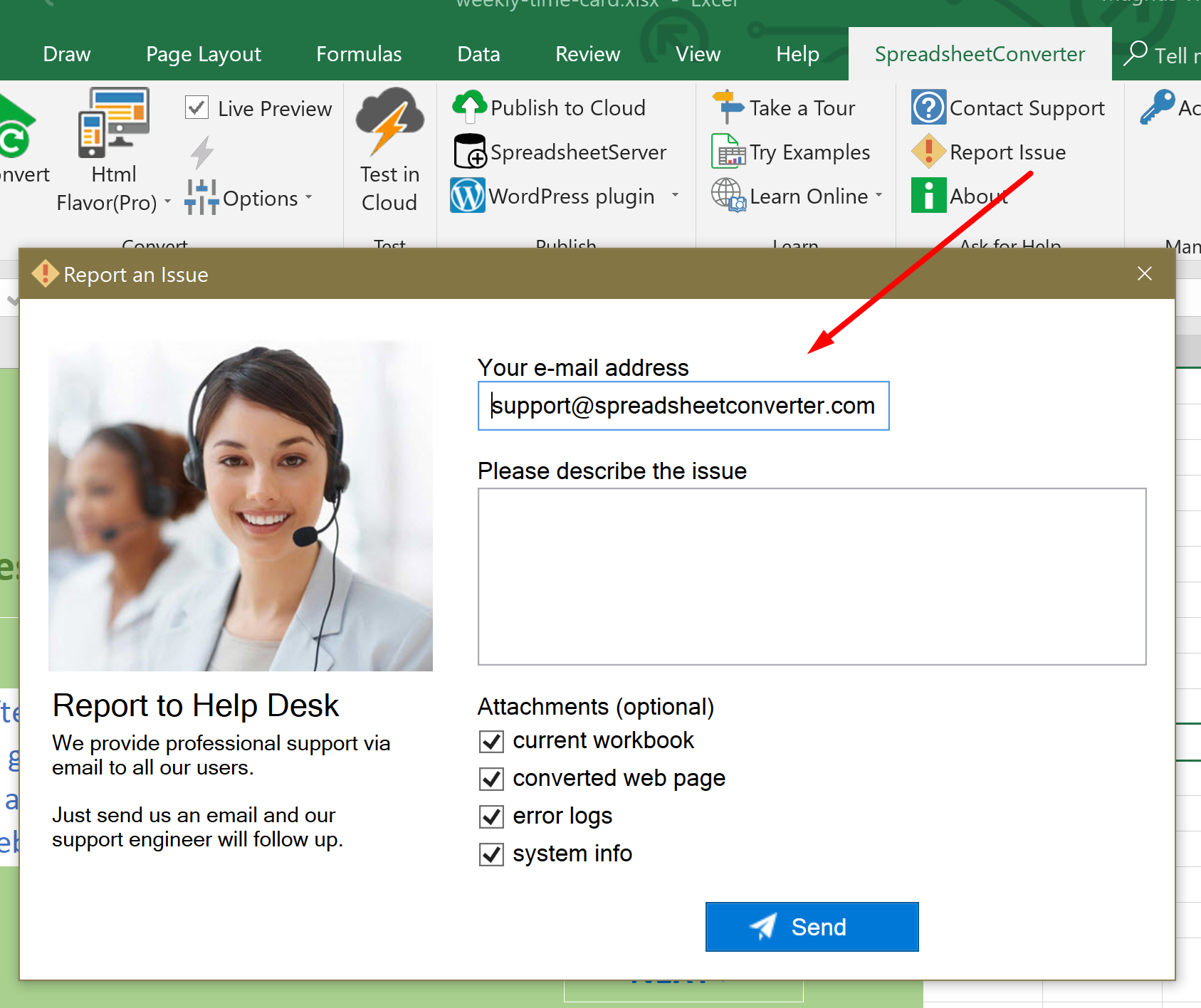 The Convert section needed a few new options to support Live Preview. Tick the Live Preview checkbox and the Convert button gets a new "repeat" arrow. Click on the Convert button to activate Live Preview. With Live Preview active, the web page is automatically regenerated when you make changes in Excel and save.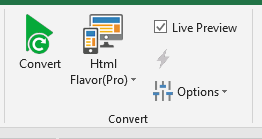 The Options menu now appears in the Convert group.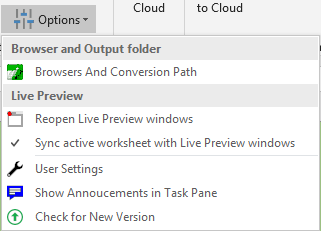 We changed the name of the Errors tab in the task pane to Messages. You can review the messages from the most recent conversion using the Messages section of the ribbon. With version 10, the messages from the most recent conversion of a spreadsheet are saved indefinitely.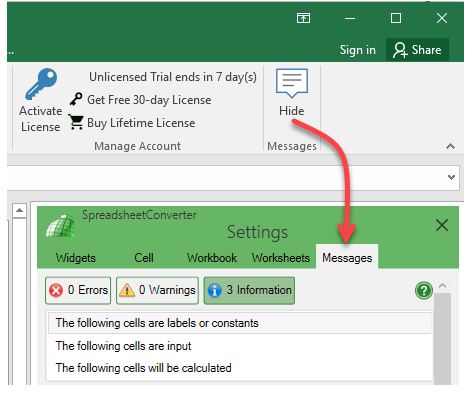 We updated the ribbon to better expose some of the most used features for new users. SpreadsheetConverter comes with a handful of examples so that you can test it right away.