Forms-to-inbox services
It is very easy to create electronic web forms based on spreadsheet templates. The doctor below is using a lifestyle survey that she first made herself in Excel. Using Excel made it very easy for her to hide sections of the survey that aren't applicable to every patient, and to verify the consistency of each patient's responses.
After she converted the intelligent survey form to a web page she can now use it on her tablet or phone or laptop, depending on the circumstances. As she presses Submit, every form is e-mailed to her inbox for simple archiving in the patient's journal. Since the form is on the web, patients can even submit their own results from their own devices.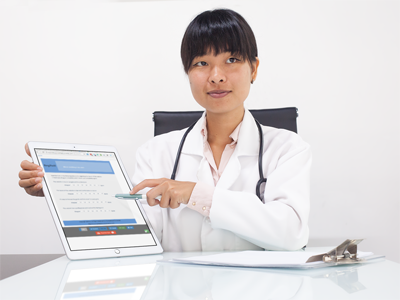 If your spreadsheet is used as an online form that visitors enter data into, you can add a Submit button to the form that sends each completed form to your e-mail inbox using our Free or Advanced Submit Service.
Learn more about how to get web forms directly to your Inbox.
Free submit service
The license for SpreadsheetConverter includes free processing of any web form created with the program. When someone completes the converted form and submits it for processing, it will be forwarded to your e-mail Inbox at no charge.
Learn more about the Free Submit Service.
Advanced submit service
The fee-based Advanced Submit Service allows you to store high volumes of submitted forms in a cloud database until you download them all at once in the file format of your choice.