The easiest way to import an Excel calculator, live chart or smart form into a Drupal blog or website is to use SpreadsheetConverter Flash (Standard or Professional Edition). This tutorial will show you how to publish live Excel spreadsheets and charts in Drupal as interactive Flash files.
Adding a live calculator or chart to your website adds value to your visitors and makes your website more interactive. SpreadsheetConverter converts Excel spreadsheets, charts and tables to web-ready Flash files, that can easily be imported into your Drupal blog or website.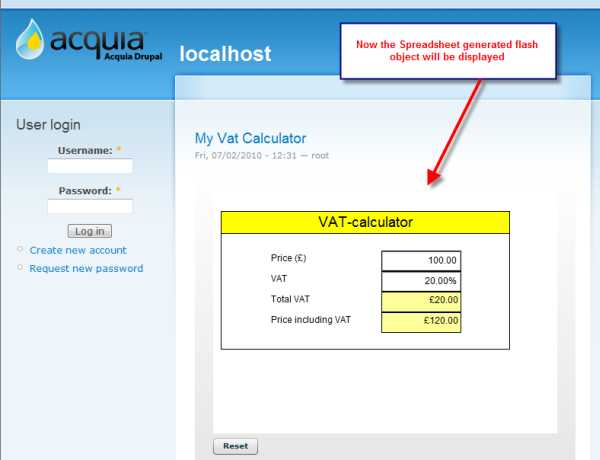 Background
Most Drupal blogs consist of just text and static images. A simple way to make your blog or website more interesting is to add a live chart, calculator or web form to it. Help your visitors solve their problems or visualize their situation!
To create this tutorial, we took a simple calculator for UK sales tax (value-added tax, VAT) and published it in a Drupal website. To be able to embed the Excel spreadsheet in a web page, we first converted it to Flash using SpreadsheetConverter Flash.
With this clever Excel plugin you can also create advanced tables, import complex charts or open live graphs in Drupal.
Creating the Flash calculator
Converting the spreadsheet to a Flash file was simple with SpreadsheetConverter Flash. We just opened the calculator in Excel and pressed the Convert button in the SpreadsheetConverter ribbon.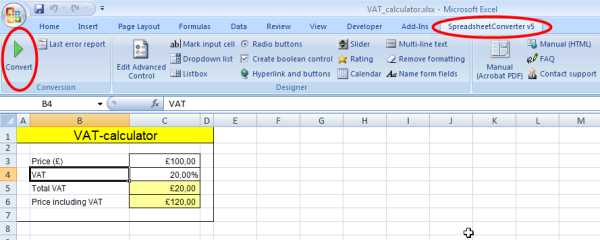 After the conversion, the Flash file and two skeleton HTML files were placed in the designated folder.

Uploading the Flash calculator
To upload the calculator to the Drupal site we first logged in to Drupal. To import Flash files in Drupal, we needed "Flash Node" support (to learn more, read the documentation for Flash Node in Drupal).
After we had followed these instructions and installed Flash Node support, it appeared in the "Create content" section.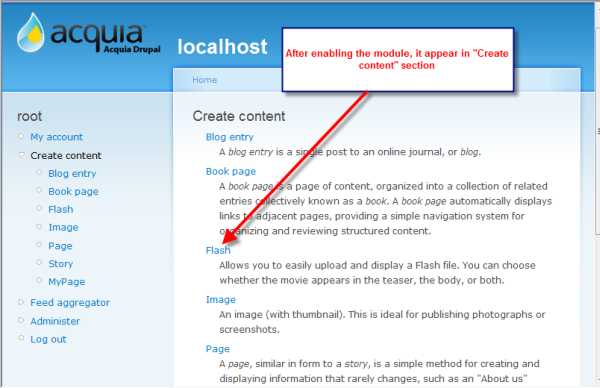 Then we selected the Flash content type. After entering the page title, we pressed "Browse" and located the .swf Flash file that SpreadsheetConverter created. We also set the dimensions for the Flash object to avoid scrolling.
We then saved the new page in Drupal.