Startup or conversion problems
Internet Security products
We sometimes get false warnings for two specific programs, e2o2.exe and ViewManager.exe. If your Internet Security software is incorrectly flagging these program as malicious, you may need to disable the antivirus program whenever you use SpreadsheetConverter. Read more about known conflicts with Internet Security products.
The SpreadsheetConverter menu or ribbon is not visible in Excel
SpreadsheetConverter is an add-in to Excel and should always appear on the Excel menu after installation.

If you have installed SpreadsheetConverter, but this menu does not appear in Excel, we would like you to do the following before you contact our Help desk.
Ensure that the add-in is properly installed and enabled
In Excel, go to File > Options > Add-ins (the location may be different in your version of Excel) and look under Active Application Add-ins. This is what it should look like (notice the details that appear at the bottom of the windows when you click on the add-in in the list).

If SpreadsheetConverter appears like above in the Add-ins section, but you don't get a SpreadsheetConverter entry in your Excel menu, we recommend that you try to install the product again. You can upgrade to a more recent version if you like. If you want to continue using the version you have installed, open the same installation file again and select the Repair install. Note: if reinstalling the add-in does correct the problem with the menu, we would be very grateful if you could report the problem and how you solved it to our Help desk.
If SpreadsheetConverter is in the list, but not in the Active Application Add-ins section, please select it in the list so that its details appear at the bottom of the screen, then take a screenshot. Also, take separate screenshots of your entire list of add-ins, just scroll through the entire list of add-ins from top to bottom. Try to solve the problem on your own, e.g. by reinstalling or enabling the add-in. If the problem persists, report it to our Help desk.
If SpreadsheetConverter is not on the list and you have installed Office from the Microsoft Store, please follow these instructions to add SpreadsheetConverter to Excel manually.
If you can't find SpreadsheetConverter on the list, your company's security policies may prevent you from installing Excel add-ins. Please verify this with your system administrator. If you can install add-ins, something may have gone wrong during the installation, In this case, follow the instructions under Completely removing the add-in below, then try to install the add-in again.
If you need help, never hesitate to contact our Help desk. Please enclose all relevant screenshots when you submit an error report.
The Installation Verification example isn't working as expected
SpreadsheetConverter comes with a simple example spreadsheet that helps you verify that everything works as expected. Please use the Try Examples link in the ribbon to open the Weekly Time Card example that was installed with SpreadsheetConverter: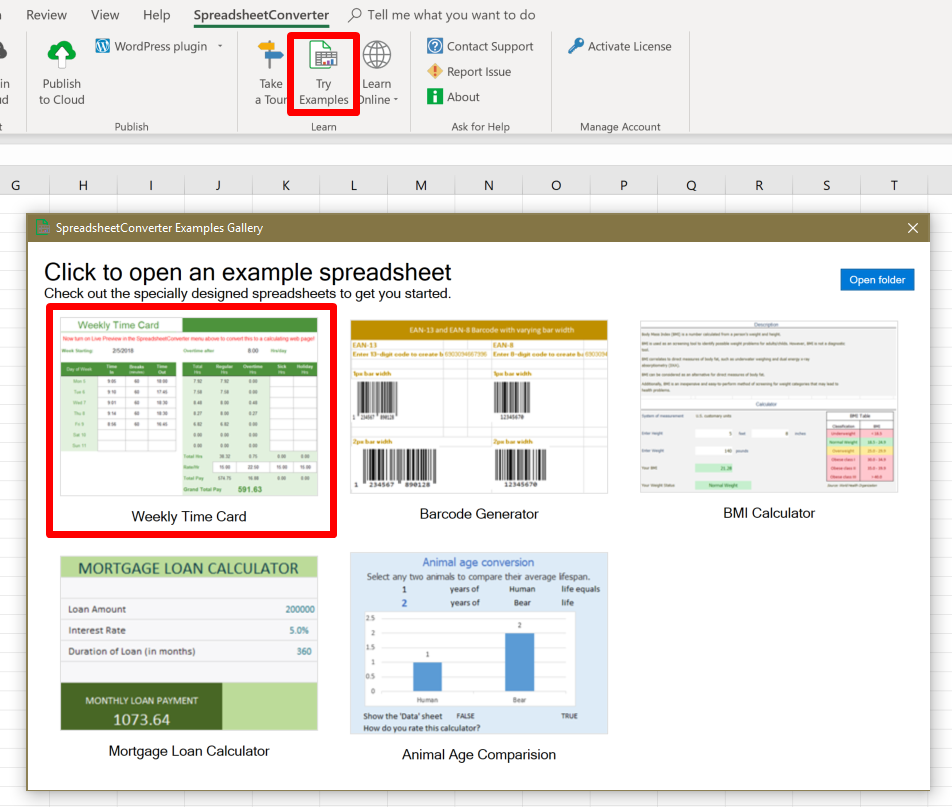 The example spreadsheet does the following:
It verifies that SpreadsheetConverter add-in was installed correctly and is available in Excel.
It runs a test conversion of the example spreadsheet to a web page.
It opens the converted web page in your default web browser.
If any of these steps fail, please uninstall the program from Settings > Apps and install it again.
If you are still unable to open and convert the example spreadsheet, please contact our Help Desk.
Macro security
If you have problems using SpreadsheetConverter after installation, you may be using high macro security with Excel. In this case, use Excel's Tools menu to navigate to Tools> Macro> Security and set the macro security to Medium. You may also have to explicitly "trust" all Excel macros from Framtidsforum.