Create the form
Creating the form in Excel is simple. You just enter the column headings in the first row of the spreadsheet and make the columns wide enough for their content.
Sometimes an event has limited space and so you can only accept a certain number of attendants. In this case, create your online sign-up form so that is has exactly the same number of rows as the number of people you can accommodate. If your conference room has 16 seats, provide only 16 rows on your sign-up form.
In this example, the form will have exactly nine rows. This probably makes it shorter than most real-life forms but we prefer small screenshots.
There are several ways of opening cells for input in SpreadsheetConverter. For example, we could insert a Text widget into every input cell. For this kind of form, it is much simpler to use cell coloring. First we mark every input cell in a color we won't use for anything else – in this case yellow.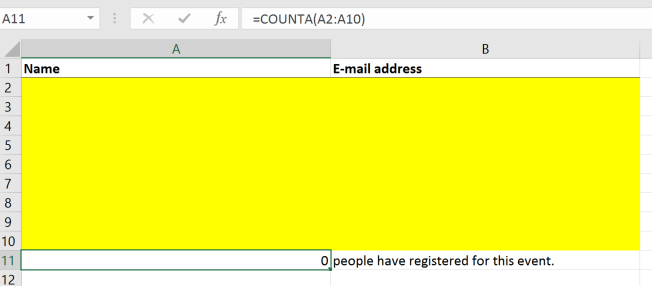 Then we go to the Input Cells setting on the Workbook tab, click Cell color, click on one of the cells with yellow background, tick the checkbox for Ignore background color for input cells and make them white and click Apply. To learn more about cell coloring, read the online help page on How to open cells for input.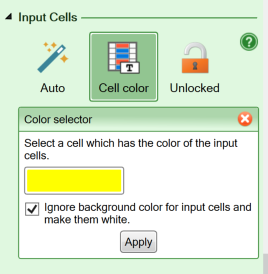 Counting the number of attendees
For convenience, we will add a counter that displays the number of people that have registered for the event. We add this formula to cell A11:
=COUNTA(A2:A10)
The COUNTA function counts the number of cells in the range that are not empty. For each new name on the list, the counter will increase by one.
Convert the form to a web page
The design of the web form is now complete. Convert the spreadsheet to a web page with SpreadsheetConverter. If you haven't done this before, read the tutorial on how to convert a spreadsheet.
Upload the sign-up list to a web server
You can now upload the sign-up form to your web server or blog. If you are unfamiliar with this, follow one of the many tutorials on how to upload a converted web page.