Creating Flash animations is a profession in itself. Every day, thousands of people spend hours in classes and workshops trying to learn the intricacies of Flash programming. Without proper training, you probably have to hire a well-paid Flash consultant to help you develop a web form or calculating web page in Flash for you. When requirements change, well – what was the name of that consultant again?
All that is history now. With the arrival of SpreadsheetConverter Flash, anyone with basic Excel skills can construct a prototype web form or calculator as a plain spreadsheet. We're not talking simple add-subtract-multiply-type spreadsheets here, we're talking interactive menus, single- and multi-choice options, smart table lookup, complex data validation, step-by-step wizards and all the graphical user interface widgets you could ask for.
SpreadsheetConverter Flash is a fully integrated member of the family already from the start. Just enter your spam-protected e-mail address to activate the free forms delivery service that's built into all versions of SpreadsheetConverter. Once a web user completes filling out a Flash-based web form, the form is delivered to your e-mail Inbox.
For a small monthly fee, we'll store all the forms on one of our servers until you come by to pick them all up at once. All this without training, without programming, without using your local IT resources, and best of all – entirely without consultants.
As an example, we took the popular body mass index (BMI) calculator we once created with Excel and converted it with SpreadsheetConverter Flash. Click on the image below to try this new example of how a fairly ordinary spreadsheet can become a pretty remarkable web page built almost entirely as a self-contained Flash file.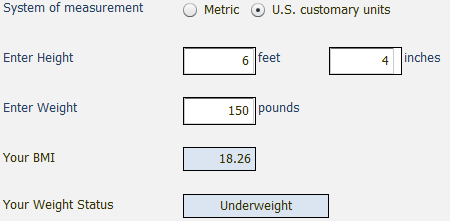 For many more examples of calculating web pages that SpreadsheetConverter Flash can publish on the web for you, including an Equated Monthly Installment calculator and a Beta Risk calculator, visit the Flash product page.
Published on June 4, 2010.