Use your skills in Excel to design powerful electronic forms with calculated fields for price, volume, weight – anything! Convert your spreadsheet to a calculating web page with a Submit button that can send completed forms to any e-mail inbox.
We use a laptop to create an electronic form in Excel. With the tabular structure of Excels rows and columns, it's very easy to get good-looking results, even with complex forms. Using Excel also gives us access to the functions and formulas we are used to. If we need a subtotal in the form, we just add the formula to the right cell in the spreadsheet.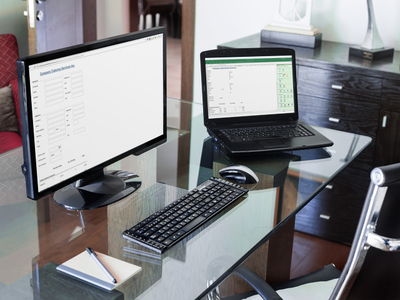 When we are happy with our design, we open SpreadsheetConverter and press the Convert button. SpreadsheetConverter runs as an add-in in Excel and converts spreadsheets to live web pages. On the left screen, you can see the converted form in a web browser. A bit hard to see perhaps. Just scroll down to test our form on your own screen. Click on Submit when you're done to see how submitted forms arrive for processing.
SpreadsheetConverter converts spreadsheets to modern web pages with advanced functionality that would be very costly to develop using a professional web designer. Create any live calculator or chart and put it up on the web in no time at all.