Use Action Buttons in any cell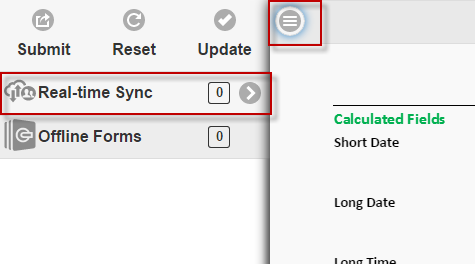 The Submit, Update and Reset buttons are the standard action buttons in your iPhone/Android calculator. That's why we put them on the most accessible place – at the top of the Side Menu. Touch the "hamburger" in the upper left-hand corner and you see them.
However, sometimes you may want to place an action button elsewhere, perhaps to simplify the user interface. Using widgets, action buttons can be inserted in any cell in the calculator. The text of all buttons can also be changed.
Submit Action button
The Submit button send the form to a web server for processing. Insert a Submit button at the end of your long form to save your users from having to scroll back to the top to reach the Submit button in the Side Menu.
Update Action button
For smaller calculators, SpreadsheetConverter automatically updates all cells in a spreadsheet if one of the values is changed, just like Excel does. For a very complex web calculator, you have the option of switching to manual updating of the calculator. In that case, an Update button is needed to manually initiate the updating of the spreadsheet.
You can now place also the Update button in any cell, perhaps right after your most popular input fields.
Reset Action button
The Reset button clears all input fields in a form. It is rarely used, except in situations where a large number of fields contain values that never will be re-used. You can now make the Reset button available where-ever users need it.

Read our online help on how to insert and configure these new widgets.