SpreadsheetConverter for J2ME has been released. No programming experience is required in order to use SpreadsheetConverter for J2ME.
Programs are moved from the PC to the phone either
by using a local connection like a cable, IR, or Bluetooth, or
by first publishing the programs to a web server on the internet, and then downloading the programs from the web server using the built-in WAP-browser on the phone.

The mobile phone manufacturers has shipped 200 million phones with J2ME. By using SpreadsheetConverter for J2ME a mobile phone can be used to perform very advanced calculations in the field. For example, a real estate broker could perform complex mortgage calculations, or a sales person could perform advanced price calculations using just a telephone.
SpreadsheetConverter for J2ME will take care of all the deficiencies of the J2ME platform, for example the lack of floating point numbers.
In end of October 2003, we were at ETCI's J2ME Interoperability Event in Sophia Antipolis, France. Operators, mobile phone producers and other developers were there. We spent 3 days making sure that SpreadsheetConverter for Java phones works on as many handsets as possible. We succeeded very well and got the 1st prize for "the best interoperable midlet".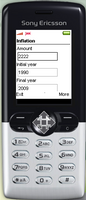 SonyEricsson T610
Siemens M55