Support guide for the WordPress plugin
Here are the instruction on how to handle problems with the WordPress Plugin to Import Spreadsheets from Microsoft Excel.
Since you're here, it seems you are having problems with our plugin for WordPress. We're sorry to hear that. Please follow the instructions below to get help from the right person.
Are you just seeing a white screen?
WordPress administrators jokingly describe this as "the white screen of death", or just WSOD. It is well documented and you should be able to find good instructions on how to correct this on the web. After you have brought your site back up again, please continue here.
You need a SpreadsheetConverter license key
The WordPress plugin is only useful for people that use the SpreadsheetConverter add-in for Microsoft Excel, or test it with a trial license. Sometimes we get support requests from people that want to import raw, unconverted spreadsheets into WordPress. Unfortunately, we cannot assist you with that.
Please provide your SpreadsheetConverter Professional edition or trial license key when you report any issues with the plugin.
You need a successfully converted spreadsheet
Before you report any issues with the plugin, you need to have an Excel spreadsheet that has been successfully converted to a web page with SpreadsheetConverter.
You must have the plugin installed and functional
You must install the plugin according to the instructions in the Installation guide.
Unfortunately, we are unable to support you in normal day-to-day WordPress activities. If you have problems installing the plugin, begin by contacting your local WordPress Administrator or webmaster.
You should see "Upload SSC Calculator" in the left-hand menu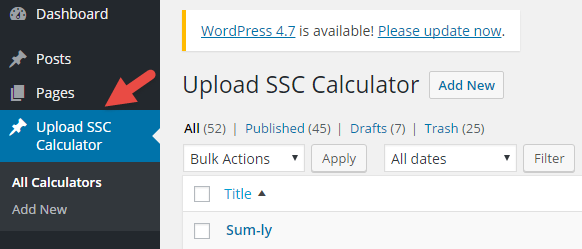 If you cannot use the plugin, you may have had installation problems that you didn't notice. Go back and try the installation again.
Check if you have one of the known issues
There are a few issues that we know may cause problems. Please check if your problem is one of the below:
The plugin requires that the ZipArchive extension for PHP is installed and enabled. Consult your webmaster or hosting provider to install or activate ZipArchive.
When using the Classic editor in Google Chrome, an embedded calculator may disappear from the page/post that is being edited. If you need to use the Classic editor, use another web browser like Edge or Firefox. Read more in the Upgrade Notice in the plugin's ZIP file.
Verify that the problem is caused by the plugin
It's easy to deactivate all of your plugins using the bulk action option at the top of the main plugins page i.e. www.example.com/wp-admin/plugins.php. If you still have the problem, at least you now know it is not caused by one of your plugins.
Now enable only the Import Spreadsheets from Microsoft Excel plugin and test again. If the problem has returned, it is probably caused by our plugin. Please contact our help desk.
Check if you have a conflict between plugins
If the problem does not reappear when you enable just the Import Spreadsheets plugin, enable your other plugins one by one until the problem reappears. There may be a conflict between another plugin and the Import Spreadsheets plugin. Please contact our help desk and report the plugin conflict.
Enable and examine your Debug Log
Your WordPress debug log may contain more information that can help solve the problem. If you haven't already enabled it, open your wp-config.php file, and ensure you have the following setting:
define('WP_DEBUG', true);
The debug log is in the WordPress content folder. This is usually called wp-content. Open the log file debug.log, go to the bottom and look for log entries that coincide with your recent site interactions.
Check if you have other common WordPress problems
There are many common problems in WordPress. Please check if your problem is one of the below. To learn more about each problem, please search the web. All these issues are well documented
Many problems with WordPress, in particular http 500 internal server errors, can be caused by a corrupt .htaccess file. Delete the current file via FTP and upload the last safe version of it from your backups.
You may be reaching your CPU or memory limits, or the maximum execution time. Consult your webmaster or hosting provider to verify your current settings.
The core WordPress files may be corrupted. Re-upload all core WordPress files to ensure they are correct.