Adding a barcode to your web page
The barcode widget uses two cells in the spreadsheet, one for the source data and one for the generated barcode. To create the widget, select the cell where you want the upper left-hand corner of the barcode. Open the task pane and select the Widgets tab. Scroll down to the Barcode widget. Click on the icon to insert the widget into the selected cell.
The barcode format
The widget can generate the barcode in different formats. Select the format you want in the Format section of the widget properties.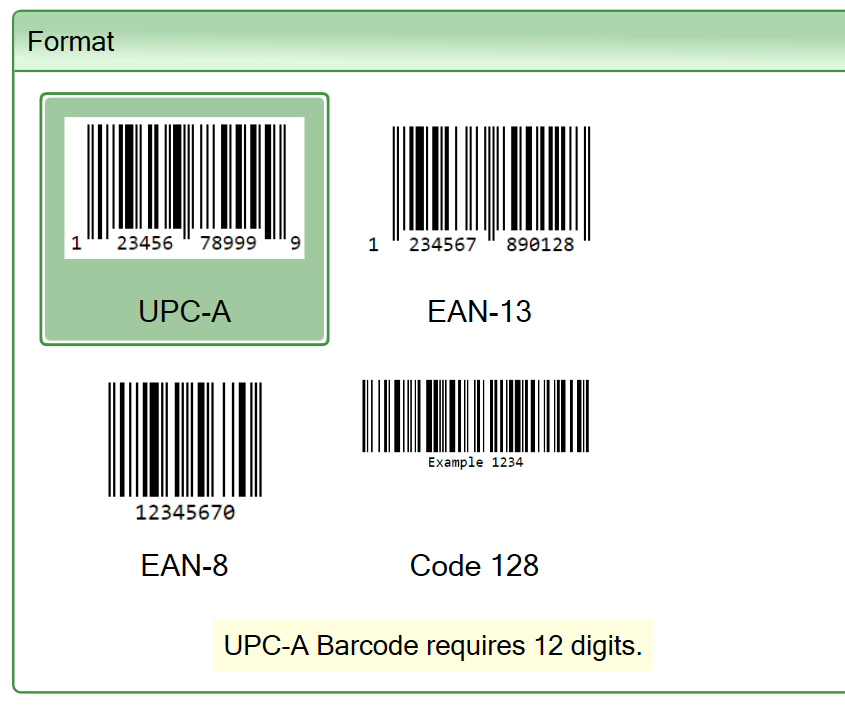 The source data cell
The content of the barcode will be taken from one of the cells in the spreadsheet. The source data cell can contain a static value or calculate the barcode contents with a formula. Static and calculated values can be concatenated.
To select the source data cell, click on the Select a cell button, click on the source data cell and then click OK. You can also type a cell reference into the text box and press OK.

The barcode placeholder
When you insert a barcode widget in a cell, a placeholder appears in the same format as the barcode will have in the converted web page. Each actual barcode is generated starting at the upper left-hand corner of the placeholder and becomes as long as required by the data.
When you edit the spreadsheet in Excel, the placeholder will not reflect the current value of the source cell. In the example below, the source data is in A1, but as you can see the barcode placeholder is unaffected. Like most widgets, the barcode widgets are live in the converted web page, but not in Excel.
When you work with widgets that use placeholders, you will often get a better result if you merge all the cells behind the placeholder. This enables the converter to better determine the size of the widget as it will appear on the web page. In the example above, we have merged cells A3:E10 to make room for the widget.
The size of the placeholder in Excel is an approximation based on your settings for the barcode widget. The best way to change the size of the placeholder is to edit the settings. If you don't think the placeholder has the correct size, you can drag the corners of the placeholder to adjust it. The size of the placeholder has no effect on the actual barcode on the web page.
>>Add detail TBD<<