SpreadsheetConverter automatically sends submitted web forms to any Inbox. The basic service is free. You enter the e-mail address in the Configure Submit options on the Workbook tab in the task pane.
You can build web forms that automatically get sent to your e-mail Inbox every time someone uses the form. For a small monthly fee, you can also have each submitted form stored in a hosted database for later retrieval. Read more about our Free and Advanced Submit Services.
When you create a web form, you need to specify to which e-mail address each submitted form is to be sent. There are also many other powerful options that let you tailor the forms submission process to your requirements.
Preparing an electronic form
A web form's submit options are on the Workbook tab in the task pane.
Switch to the SpreadsheetConverter ribbon
In Excel, look for the SpreadsheetConverter tab at the right end of the menu ribbon. Click the tab to switch to the SpreadsheetConverter ribbon.

Open the SpreadsheetConverter task pane
In the SpreadsheetConverter ribbon, select Properties > Show so that the SpreadsheetConverter task pane becomes visible.

Open the Workbook tab
In the SpreadsheetConverter task pane, select the Workbook tab so that the Workbook Settings become visible.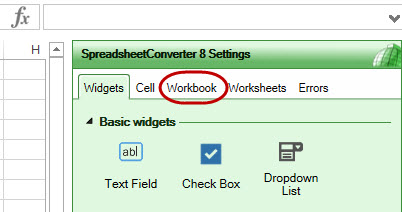 Workbook > Toolbar > Select buttons to include
SpreadsheetConverter provides a number of different buttons you can use on a web form. The most important one is Submit, since this is the button that is used to send a completed form for processing. This checkbox should be checked for every electronic form.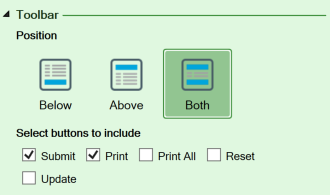 The Print button prints the current web form section/worksheet, and the PrintAll button prints the entire web form.
The Reset button empties all fields in the web form. Most users will consider this rather inconvenient so include this button only if this is a regular need among your users.
The Update button forces a recalculation of the spreadsheet. This button is only used when an ASP.Net server is used with manual recalculation and has no function otherwise.
Preferences > Customize Text
To change or translate any built-in texts used with your form, including the button texts, use Preferences > User Settings > Customize Text.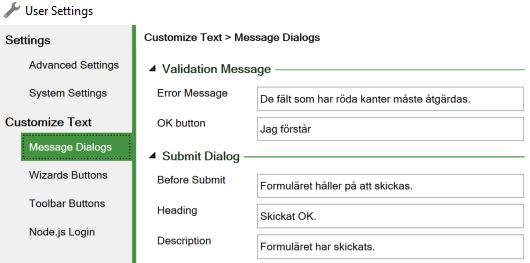 On the Message Dialogs tab, click on the arrows to expand the following sections:
Validation Message – these are the texts used for incorrect input.
Submit Dialog – these are the texts used when the Submit button has been pressed.
Offline Save – these are the texts used when a form is submitted offline.
Offline Submit – these are the text used when saved forms are sent when online again.
Offline Submit Fail – these are the texts used when the saved forms couldn't be submitted.