Development
Designing the spreadsheet
Cells that may contain both text and numbers
When we designed SpreadsheetConverter we wanted to allow for extremely large spreadsheets, and still provide exceptionally fast response times on slow hardware. This forced us into a few minor compromises, of which one was that if you ever assign a text value to a cell, it is always treated like text.
When you reference such a cell in your spreadsheet, it always returns a text, even if it's a number. The cell contents will always be left-aligned, also for numbers. In string comparisons the operation compares character for character from left to right, so numeric string values may give unexpected results, e.g. '9' > '10' and '09' <> '9'.
Example: a formula that returns either text or a number
=IF($E2=0, "Error", ROUND(0.8/$H2,2))
SpreadsheetConverter will see that the formula may return the text Error and internally defines the cell as text, which will always left-align the cell – even if it contains a number.
To avoid this from happening, divide the functionality into two cells, one with the numeric value
=ROUND(0.8/$H2,2)
And another with the error indication
=IF($E2=0, "Error", "")
Example: A formula that tests if a numeric cell is empty
When you want to test if a numeric cell is empty, you would typically use a formula like
=IF(A1=0,"Empty", A1)
This works fine in Excel, but SpreadsheetConverter regards empty cells as text strings and so the test will fail because "" is not equal to 0. The obvious circumventions are:
Never use empty numeric cells – always insert a default value of 0
Never use formulas to assign text values to numeric cells.
If you really, really must have a cell that contains both text and numbers, an error-proof test for it being empty is
=IF(OR(TRIM(A1)="", A1=0), "Empty", A1)
Use the correct formulas
A common problem in Excel is that it may not show you the true, entire numeric value of a cell. For example, if you enter the formula
=1/3
into cell A6, it will typically display as 0.333333. But the value actually has an infinite number of threes. So the statement
=IF(A6=0.333333, True, False)
will evaluate as False.
Also, most computers actually perform decimal calculations as their equivalent binary calculations. This inherent approximation may lead to differences in precision, e.g. that a cell ends up with a value of 0.45000001 when you were expecting it to contain exactly 0.45.
So, instead of the formula above, you should consider using
=IF(ABS(A6-0.333333) < 0.000001, True, False)
The same thing happens if you want to evaluate if a value is less than or greater than another value. If you get unexpected True situations using
=IF(A5 > A6, True, False)
it may be because one of the cells contains 0.45 but the other 0.45000001. To exclude this special case – where you prefer to consider the cells to be equal – use this formula instead:
=IF(AND(ABS(A5-A6) > 0.000001, A5 > A6), True, False)
If the numbers are close enough, the first part of the AND statement will not be True, and so A5 will not be considered greater than A6. You must use a "proximity constant" that is relevant for the numbers you are actually processing, in particular if you expect the cells to contain extremely high or low values.
Restrictions for spreadsheet file name, size and content
For your spreadsheet to convert gracefully into a properly formatted web page, it must follow certain rules. We have documented these in a separate help page about the restrictions for spreadsheet file name, size and content.
Converting the spreadsheet to a web page
The conversion never finishes
If you start a conversion and the progress bar seems to get stuck around 32%, you may be using conditional formatting on a very large cell range, e.g. an entire column. This problem is easily solved, just apply conditional formatting to only those cells that actually contain data.
Viewing the result
Empty sheets are not visible on the web page
When you convert a spreadsheet where one or more of the worksheets are empty, the empty worksheets will not appear in the converted web page.
Error message appears instead of Google Maps
New Google Maps may not appear as expected on your website. You get an error message saying Oops! Something went wrong. You likely have a problem with the Google Maps API key you use to show maps. Read the instructions on how to solve this.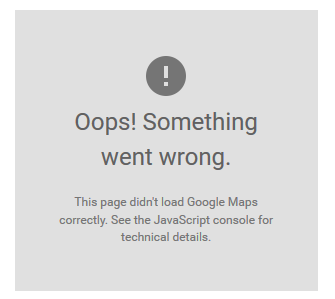 Cannot scan barcode to see the web page
When the conversion is complete, you may be shown a QR code to scan with your mobile device. If the barcode doesn't appear automatically, you can open the History List and show the barcode from there.
If the web page doesn't appear in your mobile device when you scan the barcode, and you get messages saying the web site is unavailable, impossible to connect to or doesn't respond, you may need to add an exception to the Windows Firewall. Read more in the online help for Instant Testing.