SpreadsheetConverter offers you lots of basic graphical widgets that make your web page easier to use and to give it a better appearance. This is the online help page for many of these widgets. 
This is an introduction to the use of widgets in spreadsheets to improve the functionality and appearance of the converted web page. If you haven't used widgets before, you may want to read the Introduction to widgets in SpreadsheetConverter before you continue.
Be aware that most of these widgets have no corresponding representation when used in Excel. Some of them are unfortunately totally invisible in Excel. You have to convert the spreadsheet to web format to see the widget in action.
This page describes the widgets available in the iPhone/Android flavor. There is a similar page describing the widgets in the HTML, Node.js and ASP.Net flavors.
Text field
Text fields are mainly used in electronic forms to mark the fields where the user will enter data that is not used in calculations, e.g. a name or an address. You insert a Text field widget by clicking the Text field widget in the widgets tab in the SpreadsheetConverter settings panel. You can then set different properties for the Text field:
A Required field requires input from the user. This option is mainly used for electronic forms, where a form must contain a minimum of information to be meaningful. For Text fields, a Required field cannot be empty. If it is, it will not be possible to submit the form.
Multiline is used to give a text area more than one line and to make it scrollable. Use this option only for text fields that you have made sufficiently large in the spreadsheet, e.g. by merging two or more cells. You can achieve the same result by enabling Wrap Text for the merged cell in Excel.
Make hidden field is used when you want a cell to be visible in the spreadsheet, but not in the converted web page. This also allows you to provide information to a form processing script without showing it in the form. As an example, if the link to the form contains a language code (/form.htm?lang=sv), it will be preserved by the form if your form has a text field named lang, and it will be forwarded with the form when the form is submitted for processing. Read more about filling form fields from the link.
The Placeholder text allows you to display a label for a field inside the field itself, e.g. Enter your name here. When the user starts typing, the placeholder text disappears automatically.
Name your widgets if you want to pass data into them from the link to the form (see above). For electronic forms it is also much easier to process the form if all input fields have names. You can name your fields in the widgets or give them cell names in Excel. Widget names can start with numbers or an underscore, which is required when integrating with products like Salesforce.
The default value of a text field is empty. To provide a different default value, enter text into the cell.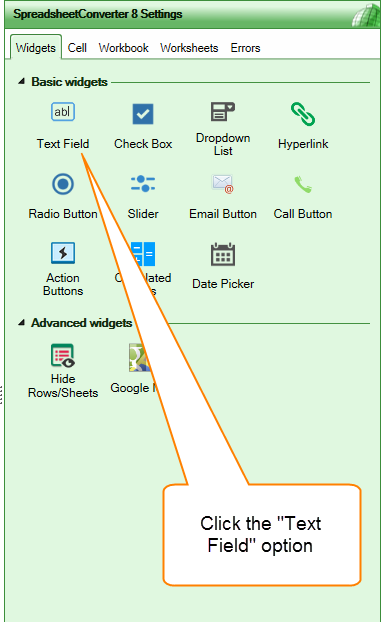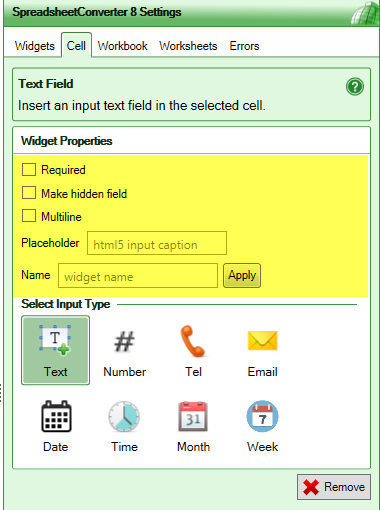 Input type
When using a mobile device, it can sometimes be difficult to enter data with proper formatting. Many mobile devices offer optimized keyboards for special data types, e.g. a numeric keypad. Some browsers offer data entry templates like date pickers, and even provide syntax validation.
The Text Field widget can request that the user's web browser provides additional assistance when entering certain types of input. Your mobile users will be grateful for this help.
Note: Although we can request this assistance from the browser, we cannot guarantee that the browser properly supports all input types. As an example, the full syntax for an e-mail address is very complicated and you can expect most web browsers to reject unusual but formally correct e-mail addresses such as john.smith(comment)@example.com or john.smith@[IPv6:2001:db8::1] while cheerfully approving obviously incorrect e-mail addresses such as john.smith.@example.com.
When users have correct input data flagged as incorrect by poorly tested web browsers, they complain – so use the advanced input types with caution.
Number – a numeric keypad may be provided by the browser, and non-numeric content in the field may be flagged.
Telephone number – a special telephone keyboard may be provided by the browser, and the field contents may be validated.
E-mail address – ".com" and other top level domains may be added to the keyboard by the browser, and the e-mail address may be validated for proper syntax.
Date – a date picker may be provided by the browser in the default language and regional format set for device.
Time – a time picker may be provided by the browser in the regional format set for device.
Month – a date picker for year and month may be provided by the browser in the default language and regional format set for device.
Week – a date picker for year and week may be provided by the browser in the regional format set for device.