Preferences section
The Preferences section of the ribbon contains various options and settings.

Browsers and Conversion Path Option
Click on the button to the right under Choose folder to store webpage and navigate to where you want SpreadsheetConverter to store the web pages it creates. All converted web pages are stored in this folder, even if the source spreadsheets are in different folders. Each converted calculator or form will be enclosed in its own subfolder.
Select what browsers you wish to verify the result of each conversion in – click once to activate a browser, click once again to deactivate. Your converted web pages will open in all selected browsers directly after conversion.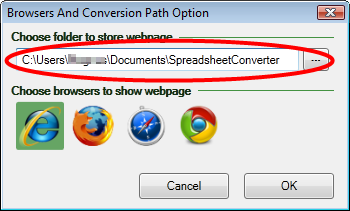 User settings
The User Settings are available in version 9 and later. Read more on the help page for the user settings. 
ASP.NET Settings
For the ASP.NET flavor, the converted web page must be copied to the location on the server where the Site is located. If this drive is available when you do the conversions, you can select the right location directly in the Choose folder to store webpage setting above.
The Choose url setting should be set to match the address of the Site in IIS. For example, if the Site in IIS is configured to listen to port 8080 and the Site name is 'ssc' then the correct URL is http://localhost:8080/ssc.
Use the Choose File Format setting to specify whether you want the converted web page to be generated for ASP.Net or Classic ASP.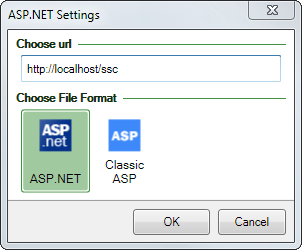 Customize Texts, Advanced settings
These menu choices can be found in version 8 and earlier versions. Read more on the help page for the advanced settings in version 8. 
Purchase Full License Keys
Follow this link to the license web shop where you can buy the licenses you need to activate the full power of the product. Learn more in the license tutorial. 
Check for New Version
Before you report any technical problems to us, please ensure that you are using the latest version of SpreadsheetConverter. Otherwise you may be reporting a problem that has already been fixed. The Check for New Version menu selection will automatically verify the version you have installed, and help you apply any updates.
Show Announcements in Task Pane
The announcements in the Notification Center help us communicate new features to you without the use of e-mails, blogs or newsletters. Read more about the Notification Center and how to use it.