If you develop for mobile devices, the new Instant Testing feature lets you quickly test each new version from any device on the same network just by scanning a barcode.
The Instant Testing feature offers two time-saving services to developers:
The converted web page can be directly accessed from other devices on the same network, without uploading to a web server.
A link to the just converted web page is provided in the form of a barcode that can be scanned using the camera in a mobile device or laptop to open the web page.
Introduction
The new QR code window
SpreadsheetConverter automatically generates a barcode, a so-called Quick Response code, that contains a link to the converted web page in the developer's workstation.
Special QR code reader apps allow you to scan the barcode with a mobile device to have the web page open automatically in a web browser on a smartphone or tablet. You can also use the barcode to open the web page in another laptop, if it has a camera. Read more in the QR code tutorial.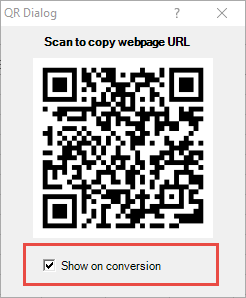 If you don't need the QR code, you can easily disable the QR code window by deselecting the Show on conversion checkbox.
If you later need the QR code for a particular web page in the developer's environment, just go to the History List and click on the new QR icon to open the QR code window again.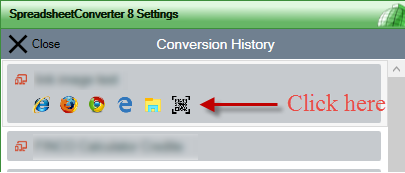 If you change your mind and would want the QR code window to appear automatically after every conversion, you can select the Show on conversion checkbox in any QR code window to reactivate it.
The ThemePreview toolbar also contains a convenient link to obtain the QR code, e.g. if you want to see how different themes change the appearance of a calculator in a mobile device.

If you are viewing a converted web page from another device, you only need to scan the barcode the first time you open the page. If the web page is already open in your mobile device, just press the Reload button. It is usually a circular arrow (it looks like a recycle symbol) and it is often located near the website address field.

Ready for production use
When you have finished testing a spreadsheet, you can of course keep using it from the development environment if all users are on the same network as the developer, and the development system is permanently online.
If you want to make a calculator or web form available outside your own local network, you still have to upload the converted web page to a public web server.